by Anthony D. Macari (Twitter: @nflwarroom)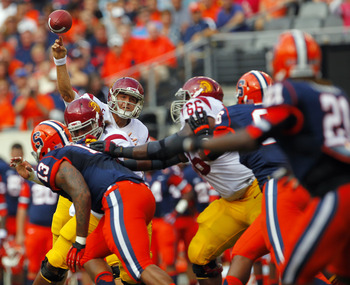 I was at the Syracuse - USC game on Saturday. I was not only excited to see how my Syracuse Orange match up against one of the Nations elite teams, but I was equally excited to see live Barkley and the USC explosive offense first hand. Barkley's numbers were indeed impressive, throwing for 6 TD's vs 1...
Read Full Post »
The direction the Bills go with their first pick, #3 overall, has been described by the mock world as a mystery. The consensus currently is that they will go with Texas A&M LB Von Miller, but the following article explains why I tehy may still be considering a QB at pick #3.
Read Full Post »
I spent the last week watching the past 5 Arkansas games includingtoday's win over Miss St. to put together a report on Mallett. I alsowatched him earlier in the year against Alabama and saw his couple ofgames at Michigan. While he still is a little raw and needs to continueto improve his footwork, reads and accuracy, he clearly has taken majorstrides. Physically he has more potential than any of the top prospectsin the draft. While I still think it is more likely that he returns foranother y...
Read Full Post »